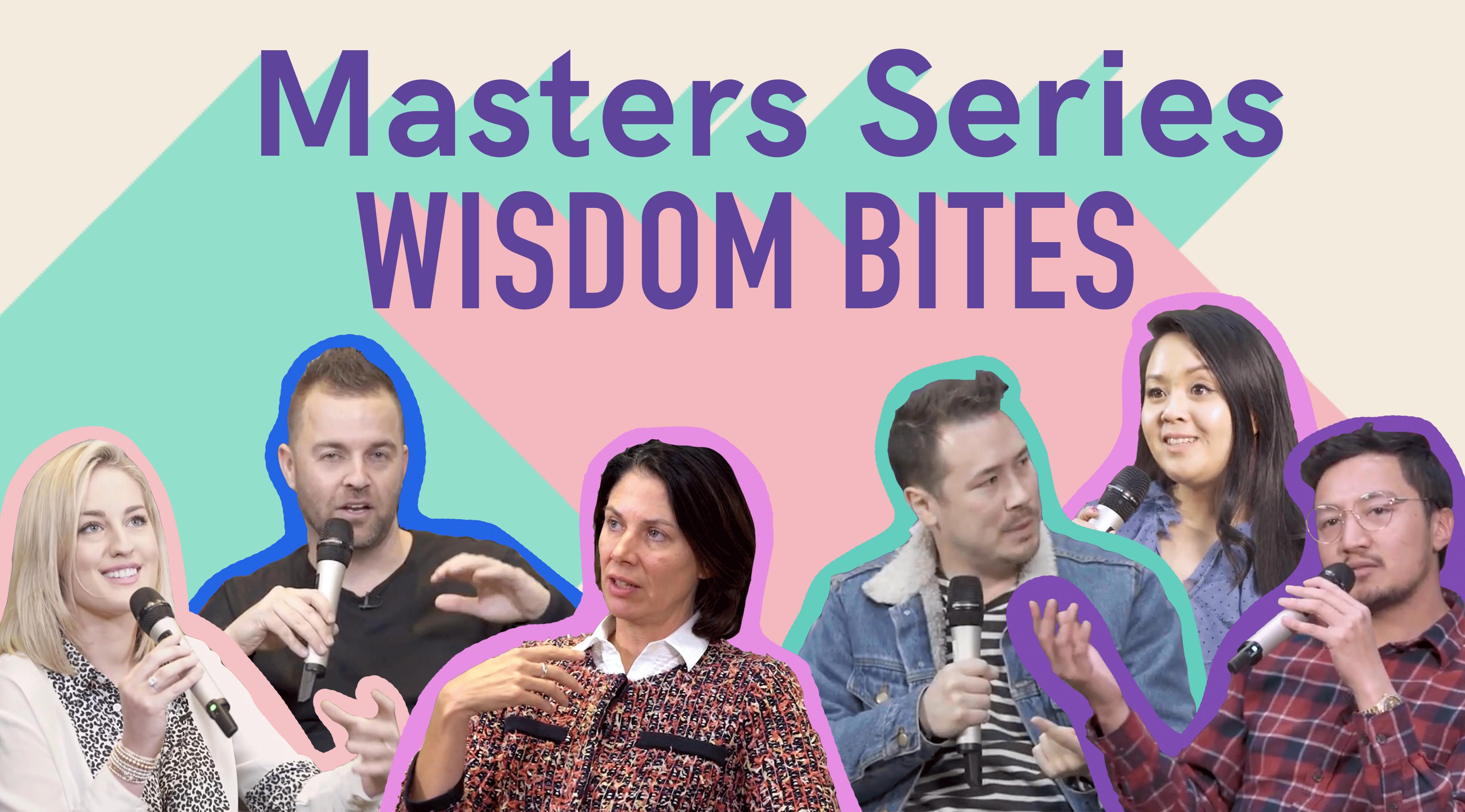 "I put a sign on my door that says "Redundancy in Progress". I'm working very hard on making sure that I can make myself redundant so the really great people that I have can come through. Another thing that has been fantastic in a learning sense is hiring the right people "for you". There is hiring people that have the skills, that are smarter than you, and can do the job better than you, but to find people that suit you is very important. Understanding this has taken many years of learning." — Anou Khanijou
"If you put yourself out there, the opportunities come. People say you have to be in the right place at the right time but I say if you take the opportunity, the right place and the right time happens. For example, if I had sat at home and said, "I'm not going to do this today," I would not have met the right person that said, "Can you help me with my pants?" I say, "I am going to take every opportunity as it comes, and learn. Even if nothing comes from it, I've learned, I've engaged, and I've met somebody that helped me on my journey." It's about taking every chance that presents itself, converting them into opportunities." — Anou Khanijou
"We didn't know anything about anything. I lived in a bubble, did what I studied, and painted within the guidelines. Starting a business was so crazy! For every part of the journey, we didn't know anything; we just did it. Our first product was a complete failure. But one thing leads on to the next, and on to the next, and opens up to so many more opportunities. And before you know it, you turn around and you think, "I kind of know a thing or two now." I would have never guessed that I would be where I am now today." — Carolyn Wong
"Small and steady growth is enough. I used to be very caught up in doing things quickly and when someone told me that it would take 10 years o build our business into a successful business, I said "No way. I'm going to do it 3 years, and then I'm gonna retire." Eight years later, I am still here. There's no point in putting that much pressure on yourself; just slow and steady. I have learned to appreciate the journey and appreciate the moment because time flies. The whole journey is really beautiful and fulfilling." — Carolyn Wong
"As you're scaling up, you get to point where you need to get into your business the right people with the right culture, and they are going to do things differently. They won't do things the way you want them to. They're going to make you uncomfortable, and if you're prepared for that and learn to close your eyes and accept that, "Yes I would have done it differently but I accept that he/she will do it their way," then you can scale up. That is growth." — Anou Khanijou
"If you believe in what you want to do, no age is the wrong age. Any age is correct. If you are not true to that belief, it will never be correct. I have always believed very strongly in what I wanted to do, and I have always set forth to achieve it. If you believe you want to be in business, then be in business." — Anou Khanijou
"Be goal orientated and not task orientated. At the beginning of your journey, you're a micromanager because you have to cover every aspect of the business. You're the maker, the packer, the sender, the seller… everything! But it's about transitioning and stepping out of these things, and it's difficult because you're letting go and trusting other people. If you can't trust your staff to do the right job then there's a big question mark." — Carolyn Wong
With thanks to
Anou Khanijou is the Managing Director of Anouconcept, but she created her first business before the age of 18. Starting with a successful Thai restaurant, she then created another restaurant, followed by a nightclub. Then came an almighty failure, one she's determined to never repeat.
William Du & Carolyn Wong are co-founders of giftware retailers Short Story. Growing from market stalls to department stores, this couple has seen success and failure — often in equal measure. William and Carolyn share are enjoying success, but share their failures in the hope that you won't suffer the same fate.
About Masters Series by WeTeachMe
Masters Series is a show about inspiring entrepreneurs, creative thinkers, and visionary dreamers, and the stories behind how they built their companies.
Subscribe to show
Show brought to you by
Masters Series is presented by WeTeachMe.
Our strategic alliance partners: MYOB, SitePoint, and Entrepreneur's Organization.
Our media partners: Startup Victoria and Digital Marketers Australia.
Our content partners: Written & Recorded.
The views expressed by the contributors on this show are linked websites that are not necessarily endorsed by the publisher.
Question of the day
What was your favourite quote or lesson from this episode? Please let me know in the comments.
With Warmth,

FREE

Download

Discover all my productivity secrets: (1) download the LIFE BY DESIGN Journal (FREE); and (2) join the Facebook group.
Stay in Touch With Me
Get Articles Delivered Straight To Your Inbox